For over 25 years, Kickbike has been leading the scooter revolution, and now they have finally entered into the electric scooter wars with the hot new Kickbike eCruise.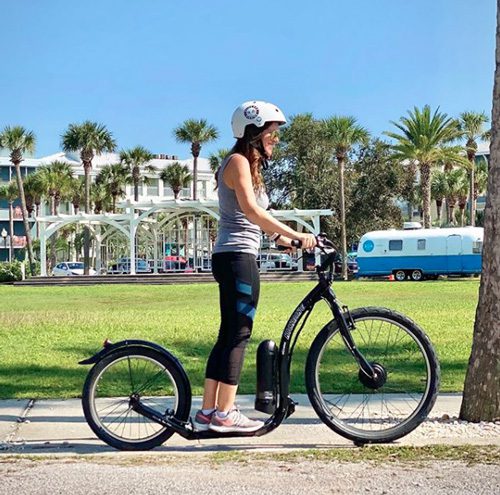 Unlike most other scooters that are on a smaller, almost kid-sized platform, the Kickbike is designed to feel more like a traditional adult bicycle. We like to call this a 'familiar-surprise', as it is very similar to a regular bike, yet delivers a completely new experience.
With their newest, electrified model, Kickbike has been able to keep the popular look and feel of their adult kick scooters, still allowing the rider to kick as before, to either get a solid low impact workout or to add to the already impressive 15-25 miles per charge.
Of course, no kicking is necessary on this high tech new model. A simple push of the thumb propels you to a top speed of 19mph in mere seconds. Power is delivered via a 36V, 10.4Ah lithium ion battery that fully charges in less than 3.5 hours and has built in USB that can charge your devices when you are out exploring. A barely noticeable 380 watt BAFANG SWXK brushless motor is beautifully laced into the front wheel, which is wrapped with upgraded Kenda Flame tires that offer amazing performance. A back lit LCD display keeps track of all your vital information such as miles traveled, speed, temperature, battery life and a great new feature that shows wattage used in real time, so you can actively manage your battery life by kick assisting in high watt situations like going up hills. It also has 5 speed levels that you can easily adjust depending on just how fast you want to go.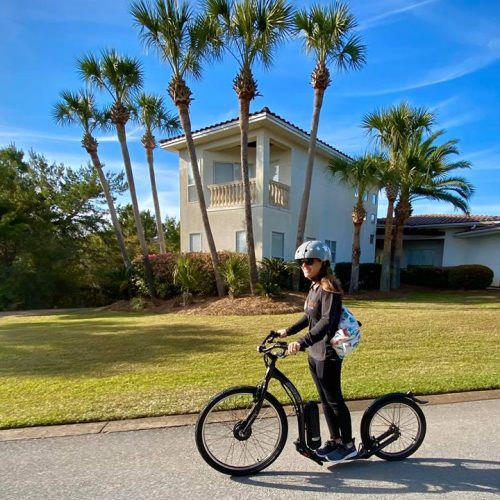 Waterproof wire connections, ergonomic gel grips, stronger kickstand and an extra wide foot board that allows both feet side by side, round out the upgrades.
All the new components are blended in beautifully, with the wires snuggly hugging the sleek frame and mostly hidden from sight. As with all Kickbikes, you will have front and rear hand brakes like you are used to on your regular bicycle. The wraparound beach cruiser style handlebars come to you, allowing for a perfect vertical riding position. Gone are the sore back and butt days of sitting on a bike. Instead, you simply step on and take off. The seamless way that you can step on and off as needed is really something that you have to experience for yourself. When riding in high traffic areas like busy sidewalks, you will find yourself doing an effortless dance of walking and scooting as you quickly carve your way through.
'Unlike electric bikes where the handlebars are always in sight, the natural standing position on the Kickbike delivers an unobstructed view that gives you a surreal feeling as you smoothly glide around. It's almost as if you are floating inches off the ground. It's pretty cool!'   says Jordan Crowder of Kickbike America.
At less than 35 pounds, the Kickbike eCruise is far lighter than comparable electric bikes, so carrying up stairs or throwing in the back of your car is a breeze. Contrary to complicated electric bikes, the minimalist nature of the Kickbike makes maintenance a snap. No greasy chain that can snap leaving you stranded, no uncomfortable seat, no complex derailleur and gears…Kickbike gives you only what you need and nothing else.
What you get is a slick looking, comfortable to ride, electric scooter with just the right amount of speed and power, that is made for adults of all sizes and ages. The new Kickbike eCruise is on sale now for $1399 at www.kickbikeus.com and we can see this one making some big waves in the increasingly interesting electric scooter race.