Bringing Style To The Growing Sport Of Dryland Mushing
With startups like Lime, Spin and Bird exploding onto the scene, a scooter revolution seems to definitely be upon us. Once seen as a kids toy or a quirky Amish thing, scooters were never really socially acceptable for adults to ride. That is all changing very fast. However, one type of scooter that is widely used by adults is the dog scooter, and while it is incredibly effective at running high energy dogs, it has never been considered 'cool'…that is, until now.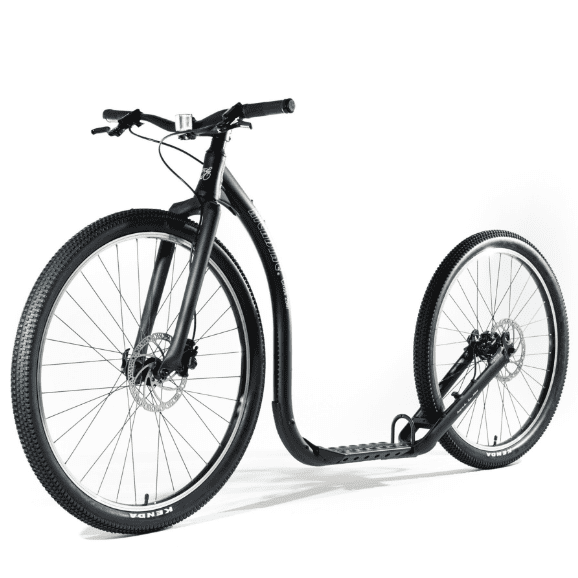 Brands such as Kickbike America are combining high performance with high style, creating adult dog scooters that are, dare we say, downright sexy! You might ask 'What is a dog scooter, and why would I need that?'. Dog scooters, like the Kickbike, allow your high energy dog to run as fast and far as they want, in a safe and controlled way, all while working together with their favorite thing — you! The low center of gravity makes them much safer than using a bike and far safer than those crazy people riding skateboards with their dogs. Just like a high end Specialized or Giant mountain bike, you will find dual disk brakes, carbon fiber forks, aircraft grade aluminum alloy frames and hybrid racing tires on these new generation of sleek dog scooters.
There are a wealth of 'dog adventure' products out there like booties (to protect their paws on rough terrain), doggy backpacks, travel bowls and even doggy tents. For dog scootering all you really need is a dog scooter (duh), a running line (leash), a good racing harness and the ever important dog leash adapter (keeps the running line from getting tangled in the wheel and absorbs shocks). Kickbike partners with Non-Stop Dogwear and they provide all these accessories on their website — as well as a Dryland Mushing 101 type page that teaches you mushing commands, has lots of great pictures and videos and really goes in depth explaining Dryland Mushing and the popular new Urban Mushing.
We got our hands on several Kickbike dog scooters to try, and I am not sure who had more fun, us or our German Shepherd. We rode the Fat Max (an absolute beast), the 29er (the Dryland Mushing world champion), the Cross Max (entry level) and the Cruise Max (perfect for Urban Mushing). Our dog picked it up almost immediately and I can see how the more you do it, the stronger the bond will grow as you get in sync and become a team. Heidi was super excited to try it and happily exhausted after. For us, being that we are after all riding a scooter, there was a bit of childhood nostalgia that continually forced smiles onto our faces. It is simply a fun and cool experience.
If you have a high energy dog, or really just any dog, and want a fun way to get outside, get some exercise and bond with your pup, we would have to say that Kickbiking is a great way to do that. While the hot new scooters in Silicon Valley are electric powered, these sexy new off road scooters are dog powered, and that might be even cooler.