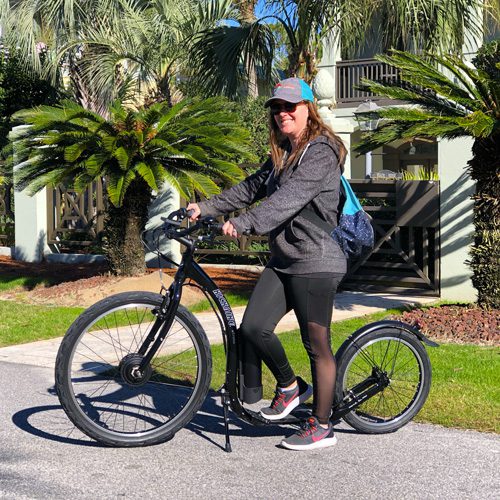 Everyone could see the electric bike craze coming. For years now, batteries have been getting smaller, more powerful and less expensive. Bicycles have become more advanced over the years as well, changing from simple machines to complex machines. So the electric bicycle was a natural evolution. What NO ONE saw coming was the electric scooter wave that has invaded many of our largest cities, seemingly overnight.
Tech-like startups such as SPIN, LIME and BIRD have flooded our modern metropolises with thousands of Razor-esque ride sharing scooters — pouring billions of dollars of gas on the electric scooter revolution fire. While these little scooters are super cool and trendy, they are not exactly practical and look more like you stole your kids toy. Well, one company is looking to completely change the electric scooter game, and at the same time challenge the entire eBike industry.
Enter Kickbike America. Celebrating it's 25th Anniversary, Kickbike is the world's leader in adult kick and dog scooters, racking up records and awards along the way and redefining what a scooter can be. This is no flash in the pan company, Kickbike is made up of adventure loving, adrenaline junkies, designers and athletes who live and breathe the scooter life. It was no easy decision to cross over into the electric scooter market. Team Kickbike and their devoted customers are purists who embrace the fact that scootering is a little harder than cycling, and encourage exploration, fitness and a minimalist lifestyle.
But after seeing all the subpar and goofy electric scooters out there, they decided, like everything they do, 'If we are going to do this, we have to make it the best electric scooter in the world'. And by the looks of things, they have once again set the bar in the scooter world.
Here Are 5 Reasons Why This Kickbike Is The Ultimate Electric Scooter:
Experience. For 25 years the experts and designers at Kickbike have been perfecting the adult scooter. From materials, components, research & development, testing and production — Kickbike simply has the expertise and infrastructure to dream up and produce the best scooters possible.
Safety. Unlike most electric scooters, Kickbikes have large, bicycle sized wheels with high quality pneumatic tires delivering a smoother, safer ride. Take it over cobble stones, rough roads or even off-road. Kickbike also comes standard with front and back, high performance brakes just like you are used to on your bike.
Exercise. What, exercise? But this is an electric scooter. Yes…but it is also a Kickbike. The kicking motion on a Kickbike is so fun and natural, and it always brings back a nostalgic smile to your face. Even with the powerful motor, especially at low speeds, you will find yourself wanting to kick a little bit, giving yourself a great low impact workout and extending the distance you can travel, known as 'kick-assist'.
Not A Toy. Although this Kickbike model is very versatile and so easy to ride your kids will want to steal it…it is designed and made for grown-ups. It is sturdy, tough, sexy and can handle just about anything you can throw at it. It is an absolute head turner and the fit and finish on it is second to none. It reminds me of if Apple built an electric scooter.
Performance. A top of the line Bafang motor delivers up to 380W of instant power with the push of a button, that is located perfectly next to your right thumb. A beautiful LCD screen displays your speed, distance traveled, battery life and even temperature. High performance brakes stop you on a dime. An oversized footplate gives you plenty of room for both feet side by side. Upgraded tires keep you grounded and running smoothly. A powerful 36V lithium ion battery will take you 15–25 miles per charge (charging time is just 4 hours). The battery secures tightly to the frame and has a key lock as well as USB input to charge your phone while you ride.
It is quite exhilarating how fast this thing gets up to full speed and just how quiet and effortless the entire ride is. Every part of the Kickbike is beautifully and carefully thought out and executed. The whole time I was riding all I could think about was how well it all worked and how it simply just made sense.
This amazing Electric Kickbike is much lighter, simpler and more affordable than an electric bicycle. It is safer, faster and more capable than the other electric scooters. It could just be the most revolutionary thing to hit America on two wheels this year. Kickbike has been the past and present of the scooter world for 25 years. Now it looks to be the future as well.
See more at https://kickbikeus.com/