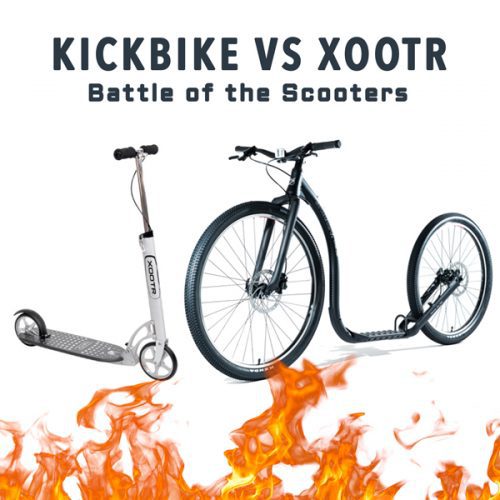 We love scooters! Being the world's top scooter brand for 26 years now, we have seen many scooter businesses come and go over the decades. We have always been a fan of pretty much all adult scooters and really anything that gets people out and about, having fun and getting exercise. Lately, we have had quite a few people call and email asking about Kickbike vs Xootr.
Xootr makes a solid little scooter, but most adults are wary that it will be the right fit for them, as it looks like a child's scooter. We are in no way bashing this scooter, as it definitely serves a purpose. But, since we have had so many questions, we thought we would put out the main differences.
Wheels/Tires:
As you can see in the picture, which shows the top of the line models from each brand…Xootr MG and the Kickbike 29er…the Xootr has tiny 7″ wheels compared to the Kickbike's 29″ front and 26″ rear wheels – the Kickbike wheels are over 4X the size! The smaller, harder wheels give a much rougher and bumpier ride unless you are on perfectly smooth pavement. The Kickbike has pneumatic (air) top of the line tires. This gives much more control and a far smoother ride. Kickbike has many off-road scooters and even a fat tire model. The Xootr cannot go offroad and struggles on cobble stones and uneven pavement. The Kickbike can go anywhere a mountain bike can go and is smooth as butter on pavement.
Brakes:
Xootr has a front hand brake and a rear fender brake…which means you step on the fender and it bends down and presses on the wheel. The Kickbike has front and rear hydraulic disk brakes. They are some of the best in the world, they look amazing and have incredible stopping power.
Parts:
The Xootr is pretty bare bones, so it doesn't have many parts at all. It does have foam grips, which tend to tear up easily. The Kickbike is also very sleek and minimal, but has a few bells and whistles…such as a beautiful carbon fiber fork, front mud guard, fenders (most models), ergonomic gel hand grips, bell and reflectors and since Kickbikes use standard bike parts and sizes, it is super easy to add awesome bike accessories and upgrade/customize with new parts.
Speed & Handling:
Xootr is good for cruising around. Kickbikes are made for high performance riding and racing. Kickbike has been clocked at over 62mph downhill and is the multiple time IFSS dryland mushing champion. Kickbikes are made for speed and they handle like a dream in sharp turns.
Fitness:
While all scooters provide exercise, the range of motion you can obtain on a Kickbike is unrivaled. Used as a cross-training tool by all sorts of professional athletes, Kickbike is increasingly becoming the go-to for anyone looking for a low impact alternative to running and cycing.
Looks:
Nothing against the Xootr, but just look at the Kickbike…it's beautiful and even more stunning in person! Called the 'Porsche of the Scooter World' it has a sleek euro-style and turns heads everywhere you go.
There are a lot of scooter options out there…which is great! But there is only one Kickbike! See more and let us know if we can help you choose the Kickbike that is perfect for you – www.kickbikeus.com